International Gramsci Society Archive
The IGS Archive is a platform for members of the International Gramsci Society to share their research papers and publications, via free access, facilitating the exchange of ideas and information across the globe.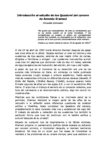 Enfrentarse a un autor ya desaparecido como Antonio Gramsci, que en vida nunca se planteó exponer su concepción del mundo de una manera sistemática, y a una obra tan rica y compleja como son los Cuadernos de la cárcel no es tarea fácil. Quien pretenda, además, leerlos en su totalidad y de forma sistemática, estará obliga a un recorrido que no siempre se corresponde al de la cronología real de su elaboración. Surge aquí la necesidad de reconstruir previamente la verdadera estructura e historia –interna y externa– de los manuscritos y de dotar al lector de una especie de brújula que le permita orientarse. De esta manera podrá asimilar el ritmo del pensamiento con el que fueron elaborados.