International Gramsci Society Archive
The IGS Archive is a platform for members of the International Gramsci Society to share their research papers and publications, via free access, facilitating the exchange of ideas and information across the globe.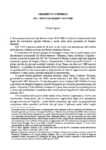 La teorizzazione gramsciano dei Consigli di fabbrica è estremamente peculiare e si distingue sia dalla teoria (e dalla pratica) dei Soviet russi, sia dalla visione che dei Consigli ebbero altri politici e teorici italiani. In Italia le tesi di Gramsci e dell'Ordine Nuovo furono contrastate da Bordiga come da Serrati, come da Tasca (differenziatosi dal resto del gruppo dell'Ordine Nuovo). L'articolo ricostruisce la visione gramsciana dei Consigli in rapporto con le lotte del 1919-1920 così come venne sviluppandosi sulle pagine del settimanale "Ordine Nuovo": un nuovo tipo di democrazia, anti-parlamentare, che doveva costituire la base di un nuovo Stato proletario, caratterizzato dalla partecipazione democratica dei lavoratori a partire dalla fabbrica e dai luoghi di lavoro e produzione, sulla scia di alcune osservazioni di Marx, dallo scritto "Sulla questione ebraica" a quello sulla Comune di Parigi.